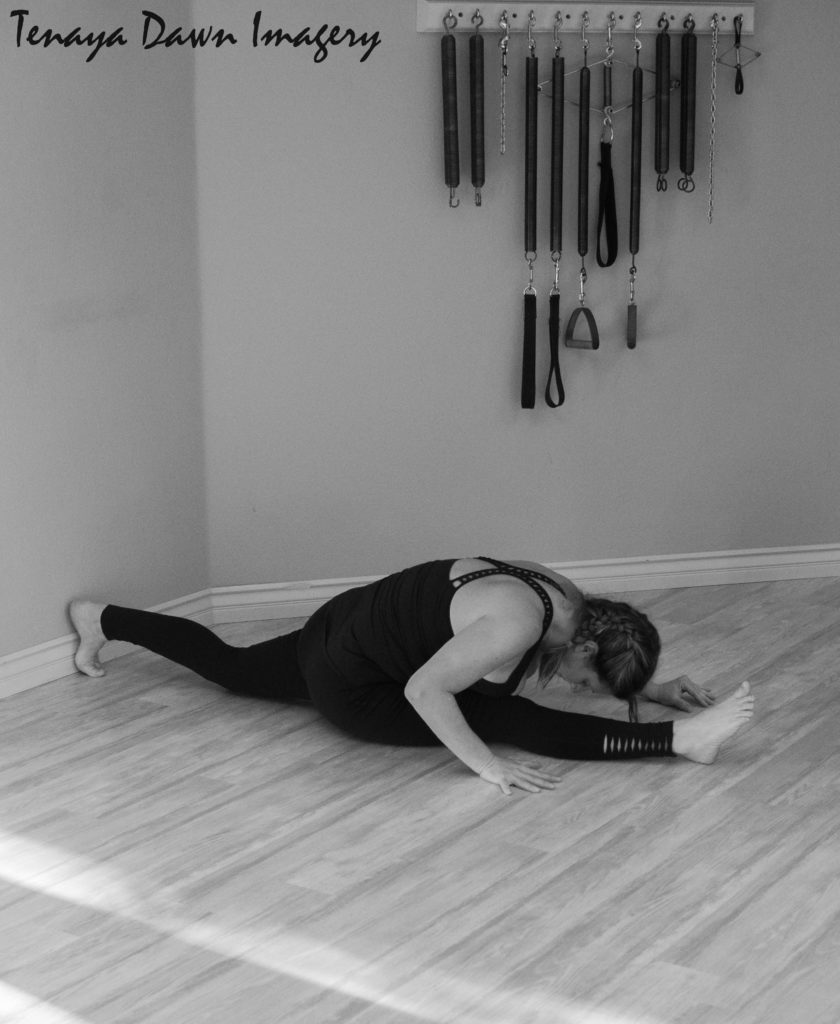 Pilates Fundamentals:* Focuses on three Pilates Principles (Concentration, Control, & Centering) for the 7 exercise in the modified basic and basic mat routines. Recommended for students with no previous classic Pilates experience.
Pilates Basics: Students will continue to build on the basic mat routine. Modified intermediate to intermediate exercise will be added to the repertoire. The principles of Fluidity, Precision, & Breath will be integrated.
Intermediate Pilates: The basic/intermediate mat routine is presented in a more challenging way with emphasis on all six principles. Classes address those students comfortable in Level 1 as well as those newer to classic mat Pilates.
Int/Adv Pilates: Intermediate level strength, stamina and flexibility are required for these classes which will emphasize the principle of fluidity. More advanced exercises will be introduced: Teaser, Swan, Hip Circles, and Push-ups.
Advanced Pilates: Students should be capable of exhibiting the principles of concentration and control as each exercise transitions from one to the next. For advanced students only. Instructor approval required for attendance.
Yoga Basics:* Classes teach the fundamental principles and therapeutic application of a healthy yoga practice. Classes are designed to give you the time and support to understand the proper alignment of Yoga postures (asana) and breathing techniques.
Yoga Level 1: Allows the student to rediscover their body, how it works, and what it can do. Students will begin by focusing on the basics, but it won't stop there. Teacher are experienced at helping you master form, understand how to breath, and help you build confidence in the postures and explore the wonders of Yoga
Yoga Level 1 & 2: The basic postures are presented in more challenging ways with focus on the fundamentals of yoga. Classes address the needs of students who are comfortable in Level 1 as well as those newer to Yoga.
Yoga Level 2: More advanced postures and sequences are introduced, including inversions, backbends, and arm balances. Intermediate level strength, stamina, and flexibility are required.
Yoga Level 2 & 3: Longer holds in each posture; advanced variations and vigorous sequences are typical. For students familiar with intermediate to advanced Yoga postures.
Hatha Yoga:* Traditional postures (asana) are held in accurate alignment. Emphasis is placed on core strength, flexibility, strength and concentration and breath control. Based on physical postures, deep breathing, mindfulness, and listening to the body.
Sunrise Yoga: A dynamic system of practicing asana, linking breath to movement, builds heat, endurance, flexibility, strength and concentration. Sequencing is often built around sun salutations (Surya Namaskar).
Power Yoga: This class offers a similar knowledge, style and format of the Prana Flow Yoga. However it is an aggressive athletic style that emphasizes intense strength and stretching. Power Yoga offers an aerobic appeal with more intensive cardiovascular conditioning. We build heat and sweat throughout the entire class. Power Yoga enthusiasts are often jumping in and out of the poses as this class moves at a much quicker pace than the others. We are still practicing 50% strength and 50% length to provide a balanced work out.
Dhyana Flow Yoga:* This is an integrative Yoga and Meditation class. It offers a 45 minute yoga session followed by a 30 minute guided meditation. For those who have always been interested in embarking on a regular meditation practice, this class will prepare the body and mind for the meditation with posturing that is specifically oriented to support the meditation that will follow. Each class will introduce a different form of meditation. It has all the components and benefits of a regular yoga practice with supportive instruction to enhance one's own meditation practice.
Gentle Flow Yoga:* This is a gentle class that combines Yoga postures (asana), breathing (pranayamas), and meditation (dhyana). Students will learn to build skills into flowing sequences with a focus on combining breath with movement. Geared toward students who wish to move at a slower pace.
Iyenger Yoga:* Based on the teachings of B.K.S. Iyenger. This method teaches the classic yoga postures through a deep awareness of correct alignment and precise actions in the body. Highly therapeutic, this technique helps to refine your poses while it trains the mind to remain alert, focused and composed. Includes vinyasa, restorative, and the use of props.
Restorative Yoga:* Class moves at a gentle, soothing pace designed to encourage an inward focus. Restorative postures and props combine to bring a calming end to the day or week.
Partners Yoga: Designed for a shared practice, students will unite in posture (asana) with one another. Yoga, derived from the Sanskrit word "yuj," means union. Partners yoga is a playful and creative way of bonding with our fellow yogis' and the living world around us.
Qi Gong: A Chinese style of energy building exercise designed to bring the body mind and spirit together as one. It is a system that loosens the joints and spine plus relaxes the points of tension in the body (stress). With the use of the breath, intention, and simple body movements Qi Gong strengthens the immune system, decreases healing time of injuries, improves sleep patterns and improves overall function of the body.
* No previous experience required.